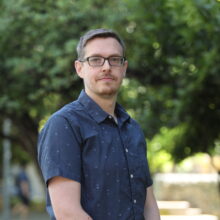 Cargo académico: Profesor Asociado
Áreas de Investigación: Identidades juveniles y Globalización, Indigeneidad, Métodos cualitativos y Etnografía escolar, Racismo institucional, Sociología de la Educación, Sociología de la Etnicidad
Cursos que realiza: Diseño y Estrategias de la Investigación Cualitativa (Posgrado) , Educación, Transformación social y Multiculturalidad (Posgrado) , Sociología de la Educación (Pregrado) , Sociología de la Raza y la Etnicidad (Posgrado)
Proyectos en los que participa: Centro de Estudios Interculturales e Indígenas CIIR. , Núcleo Milenio para el Estudio del Curso de Vida y la Vulnerabilidad / Millennium Nucleus for the Study of the Life Course and Vulnerability (MLIV).
Contacto: andrew.webb@uc.cl
Educación:
Sociólogo de la Universidad de Bristol, Reino Unido.
Master of Arts in Social Research de la Universidad de Leeds, Reino Unido.
Doctor en Sociología de la Universidad de Cambridge, Reino Unido.
Descripción:
Mis intereses de investigación están relacionados con contextos de escolarización y desigualdad, particularmente desde la perspectiva de las minorías étnicas. Investigo temas como segregación escolar, racismo institucional y la formación de identidades étnicas en las escuelas usando métodos cualitativos. Mis cursos de educación y etnicidad se relacionan de manera muy cercana con aquellos temas.
Dirección de Tesis Doctoral. 
Me interesa trabajar con candidatos/as a doctorado en los siguientes temas: Racismo escolar, identidades juveniles étnicas, convivencia escolar, acceso y experiencias de educación para minorías étnicas