¡Conoce las publicaciones de Sociología UC del primer semestre 2022!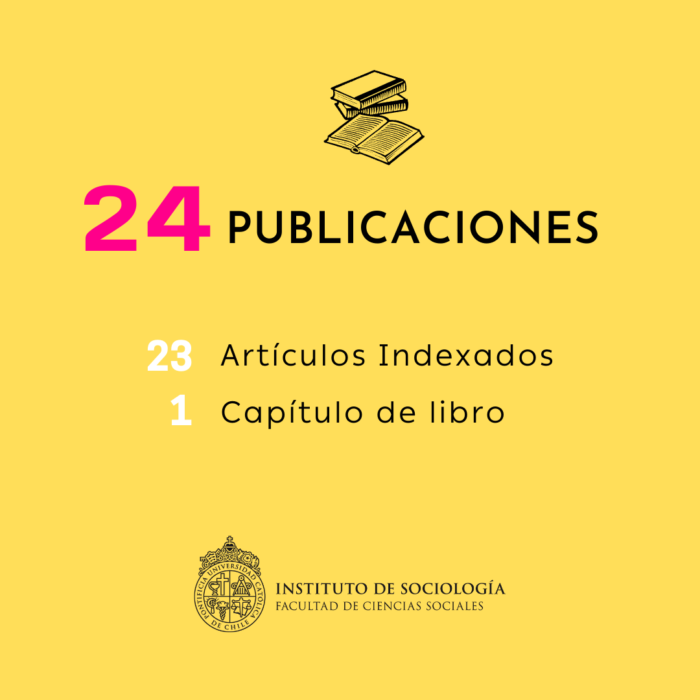 Consuelo Araos
Araos, C., y Palma, J. (2022). Household Coping Strategies During the COVID-19 Pandemic in Chile. Hantrais, L., Brannen, J., Le Feuvre, N., Letablier, M.-., eds., Families and COVID-19: an interactive relationship (pp. 47-60). Frontiers Media. https://doi.org/10.3389/fsoc.2021.728095
Matías Bargsted
Bargsted, M., Ortiz, C., Cáceres, I. et al. (2022). Social and Political Trust in a Low Trust Society. Polit Behav.  https://doi.org/10.1007/s11109-021-09762-2
Bargsted, M., Bachmann, I., y Valenzuela, S. (2022) Corruption and Political Knowledge Erosion. A Cautionary Tale from Latin America. International Journal of Public Opinion Research. Volume 34, Issue 2, https://doi.org/10.1093/ijpor/edac015
Andrés Biehl
Biehl, A., Inostroza, A., Irarrázaval, I., Janiak, A., Larrañaga, O., Sapelli, C., y Traferri, A., (2022). Política social en Chile: ¿Se debiera implementar un ingreso básico universal?. Temas de la Agenda Pública, 17(153), 1-14. Centro de Políticas Públicas UC.
Ignacio Cabib
María Beatriz Fernández
Gallardo, L. y Fernández, MB. (2022) Depressive Symptomology, Identity and Religious Practices among Catholics and Evangelicals: Differences between the Mapuche and Non-Indigenous Chilean Population. Religions, 13(1), 76. https://doi.org/10.3390/rel13010076
Fernández, MB. y Herrera, S. (2022) Percepción de la obligación dentro de las relaciones filiales. Desacatos 68, p. 108-123 .
Fernández, MB. (2022). Religiosity, physical and functional health in older people in Chile. Colombia Médica, 53(2), e2004846.
María Soledad Herrera
Gallardo, L., Sánchez, E. y Herrera, M. (2022) Aging and family relationship among Aymara, Mapuche and non-indigenous people: exploring how social support, family functioning, and self-percived health are related to quality of life. International Journal of Environmental Research and Public Health, 19(15):9247. https://doi.org/10.3390/ijerph19159247

(2022)

 

Gender and family structures affecting intergenerational support from adult children to older parents: A cross-national study in a developing country.

 Journal of Women & Aging. https://doi.org/10.1080/08952841.2022.2044709
Herrera, M.; Galkuté, M.; Fernández, MB.; y Elgueta, R. (2022) Grandparent-grandchild relationships, generativity, subjective well-being and self-rated health of older people in Chile. Social Science & Medicine. 296, 114786. https://doi.org/10.1016/j.socscimed.2022.114786
Nicolás Somma
Felipe Torres
Torres, F., y Gros, A. (2022). Slowing Down Society? Theoretical Reflections on Social Deceleration in Pandemic Times (and Beyond), KronoScope, 22(1), 3-29. https://doi.org/10.1163/15685241-20221505
Torres, F., y Gros, A. (2022). La sociedad de la desaceleración. Reflexiones sociológico-políticas a partir de la pandemia. Nuevos Actores y Cambio Social En América Latina, 399–418.
Manuel Tironi
Andrew Webb
Castillo J, Webb A, y Biehl A. Mapuche Transitions from Education to Work: Vulnerable Transitions and Unequal Outcomes. Journal of Developing Societies. 38(2):244-273. https://doi.org/10.1177/0169796X221085036